Payroll Autumn Update 2019
08:50 - 16:50

---
The UK's biggest independent payroll and reward conference
---
Returning for its 15th year on 5 December. Gain the latest updates across crucial topics that affect the payroll and reward profession.
The conference will include:
• Exploring both current and future trends of reward and payroll
• Receive crucial regulatory updates including; employment law, pension schemes and income tax
• Hear how your peers are tackling minority pay gaps and improving pay transparency
• Find out how key players are segmenting reward strategies to tailor to all audiences
• Determining how to provide well-being support for all employees successfully
• Consider new policies on parental leave and the impact on the gender equality gap
• Contemplate the consequences of Brexit's uncertainty on the UK workforce
Why attend:
| | | | | |
| --- | --- | --- | --- | --- |
| Be inspired | | Gain vital updates | | Meet face-to-face |
| Hear from high profile, interactive interviews, case studies and live seminars directly from industry specialists – this is your chance to question the experts and gain usual tips and advice to take back to the office. | | Trends, new strategies, and innovations in payroll and reward happen all the time; stay up-to-date and avoid costly fines with the latest changes in legislation and expand your knowledge via insight direct from HMRC. | | Connect with like-minded individuals and build your professional network by sharing experiences, hear new ideas, validate or change your perspectives and discover innovative products and services. |
Who attends:
The conference brings together the entire spectrum of payroll and reward including the most influential HR, pensions, employee benefits, employment law and bureaux professionals.
Previous feedback:
"Great for networking and getting updates on everything"

"It provides a useful way to meet other professionals with similar concerns and to share knowledge"

"Great way to ensure you are updated with the latest industry topics"

Rona Betts

Payroll Manager

Aster Group

Natalie Bertelsen-Macey

Payroll Manager

B&Q

Lisa Woolford

Payroll and Reward Manager

Triumph Group
Sponsors
Position your company as an industry market leader
The Payroll Autumn Update hosts payroll, reward, HR, pensions, employee benefits, employment law and bureaux professionals from a broad selection of the UK's business community, bringing together buyers and suppliers in one location. Focused and high-level, the 2019 event will be an excellent platform to initiate new business relationships.
Invest today to:
Accomplish more with less time out of the office with this concentrated one-day event with two conferences where the who's who of the industry will be in attendance
Increase brand awareness and establish your presence in the market, or consolidate your position as a leading provider
Make direct contact with new prospects and generate new leads
Gain significant brand exposure pre and post-event through our extensive marketing coverage
Demonstrate services and products to potential purchasers from across the industry
Strengthen existing business relationships by catching up with your contacts face-to-face
Sponsor with confidence; Reward Strategy, formerly known as Payroll World, has over 17 years' experience in running conferences for the reward, payroll and HR market
Exhibiting and sponsorship options are extensive, and packages can be tailor-made to suit your individual company's needs. Contact Ben Miller, Reward Strategy's Sales Director on 020 7823 4803 or email for further information.
2019 Sponsor
---
| | | |
| --- | --- | --- |
| Knowledge partner | | |
| | | |
Agenda
8.30

Registration, Networking and Morning Refreshments

9.15

Opening Address

9.25

Keynote: Reward and Payroll

9.55

Preparing for the Future: Brexit's Uncertainty

10.25

Morning Tea

10.45

Pension Update: Key Regulatory Changes

11.15

Employment Law Update

11.45

Policies on Leave: Maternity vs. Paternity

12.15

Lunch

Compliance

Strategic

Applied

13.15

Income Tax and Personal Allowance Update

Segmentation of Rewards: Changing Demographics, Changing Expectations

Providing Financial Support and Guidance

13.45

NLW/NMW Update

Future of AI only Payroll Processing

Measuring the Impact of Reward

14.15

IR35 Update and Private Sector

Overcoming Challenges to Create a Successful Global Payroll

Benefit of Holistic Payroll Practice

14.45

Afternoon Tea

15:10

Roundtables/Workshops

15.40

Addressing Employee Wellbeing: Physical vs Mental

16.10

Pay Transparency: Tackling Pay Gaps

16.40

Closing Remarks and End of Conference
Venue
Address:
Hilton London Bankside
2-8 Great Suffolk St, London SE1 0UG
Hilton London Bankside location is near a number of transport hubs, including:
Underground stations:
Average walking time from Hilton London Bankside
- Southwark (Jubilee Line) – 5 minutes
- Blackfriars (District and Circle) – 6 minutes
- Waterloo (Northern, Jubilee, Waterloo and City lines) – 10 minutes
- London Bridge (Northern and Jubilee) – 10 minutes

Overground stations:
Average walking time from Hilton London Bankside
- Waterloo East (via Southwark Tube Station Entrance) - 5 minutes
- Blackfriars (direct connections to Gatwick Airport) - 6 minutes
- London Bridge - 10 minutes
London airports:
City Airport
Distance from Hotel:7.8 mi.
Drive Time: 29 min.
Heathrow Airport
Distance from Hotel:18 mi.
Drive Time:38 min.
Gatwick Airport
Distance from Hotel:27 mi.
Drive Time:1 hr.
---
Stay up to date
To stay up to date with the latest news and agenda updates subscribe to the newsletter today.
---
Contact
General enquiries
020 7940 4801 - press 0

enquiries@reward-strategy.com

Editorial
020 7940 4801 - press 1

editorial@reward-strategy.com

Advertising
020 7940 4801 - press 2

sales@reward-strategy.com

Marketing

020 7490 480 - press 3

marketing@reward-strategy.com

Events

020 7940 4801 - press 4

events@reward-strategy.com
The Rewards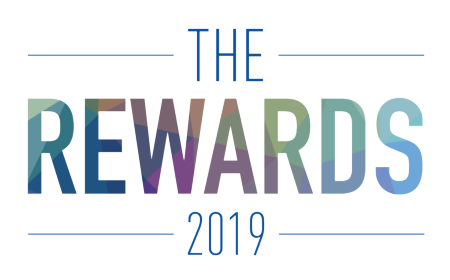 With payroll still at the heart of the event, the award categories reflect the widening remit of the profession and its close association with HR, reward, pensions and employee benefits. Exciting new categories include Best Business Award and Recruitment Provider Award, alongside ever-popular categories such as Best Leader Award and Rising Star Award.

The Rewards, now in its 9th year is the most distinguished event on the industry's calendar. Join us in recognising high achievement and celebrating excellence in payroll, HR, pensions, reward and employee benefits.
If you have any questions regarding awards entries please don't hesitate to get in touch with our events team on 020 7940 4801.
Prices
Rates

In-house/Client

Standard

Super early bird ticket

Deadline: 12 July

£450

£750

Early bird ticket

Deadline: 13 September

£550

£850

Standard rate ticket

Deadline: 11 October

£650

£950

Late rate

12 October onwards

£750

£1050
All prices are exclusive of VAT
Want to know more about the conference, the agenda, or wish to book? Simply give us a call at 020 7940 4801